International Artist Magazine
Painting a Nararative "Still Life" with Jorge Alberto.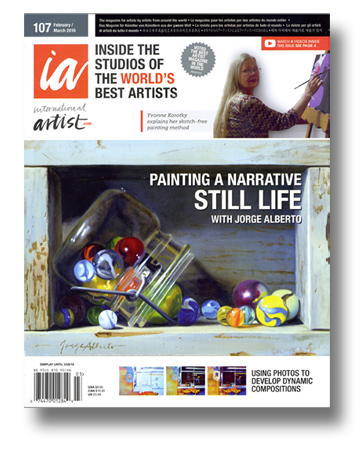 In the February/March issue of International Artist Magazine I demonstrate how I create my still life / trompe l'oeil paintings.  You can read under "My Art in the Making" (pages 74 – 77) how I created my latest work titled "Scriptorium".
International Artist Magazine focus is on artists at work, rather than step-by-step how-to demos, though there are some of these within artist profiles.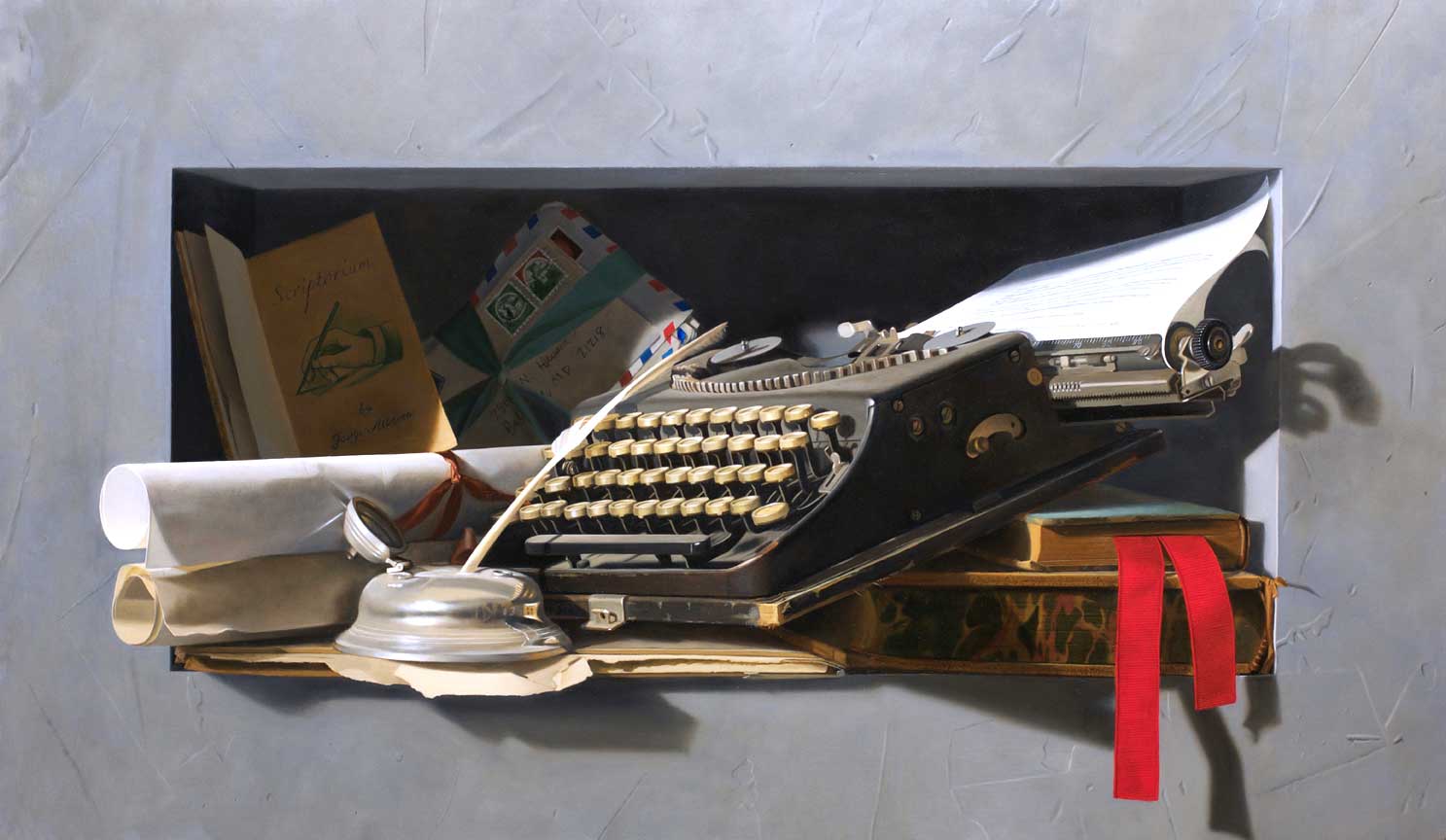 Scriptorium – 17 x 29.5 inches – oil on panel
Bellow is a step by step video on how I created this painting.
Recommendations made by artist Randall Lake to Stephen Parphen during a painting trip to Europe in 1984.
1- Believe in yourself. Be tenacious, tough-skinned and your own most severe critic.
2- Do not expect financial susses. Pursue art because you love it-whatever you love doing you will do well.
3- There are no short-cuts in this profession. For most of all, creativity has more to do with daily work than momentary inspiration. Don't wait for the grand vision; work and re-wok. When inspiration does come, your skills will be up to the task of using it effectively.
4- Do not expect or depend on external praise. It is the norm of the gallery, dealers, art center and museums to look upon the undistinguished artist with indifference. Accept it: Society does not owe you recognition or a living- that you must earn by your services to the society in wish you live.
5- Painting is not a nine-to-five profession. It is life work, which demands that your  schedule will be vary. If the imbalance makes you feel guilty, then teach.
6- Although Ralph Vaughn Williams (1872-1958) was a composer of music, the advise he gave to young composers at Cornell University in 1954 is equally applicable to the visual arts "_ Musical invention has been described as an individual flowering on a common stem. Now young composers do not try to be original; originality will come by itself if it is there. However individual your flowering may be, unless it is firmly grafted on the common stem, it will wither and die … Try the beaten track first; if an irresistible impulse leads you into the jungle, be sure that you know the way back."
7- Learn the basic skills of drawing and composition in high school and universities courses. Although taste may change, the basic skills do not. If your instructor wants to teach "creativity" change classes and lear academic discipline instead. When you become an artist, "creativity" comes naturally. It can not be taught.
8- If you want to be a realist and paint the figure, learn anatomy to perfection early on in your career, and never, never thing you have "mastered" the figure. Take Winslow Homer's advice to his students: "Paint figures my boys; leave the rocks for your old age-they're easy."
Taken from an article published in 1985 / Southwest Art Magazine.
Painting for me is a necessity, a need. When I create I find joy and valance in my life. I have been lucky to be able to make a living doing what I love the most and that is creating art.

My Painting Method:
I like to be familiar with the objects I use, so I never use them straight away, but instead I create "short stories" by rearranging them in groups which I then use as the basis for a set-up. I like to mix the old with the new, and I prefer complex set-ups that are not organized in an orderly way, as I feel that this creates movement and interest. The eye, traveling along the lines of the composition, creates a narrative between the objects, and also explores the objects partially hidden in shadow.
Although frames are necessary to enhance and protect a painting I find them restrictive.  For the way I like to do my trompe l'oeil paintings I usually paint the illusion of a frame in order to be able to bring the image out of the two dimensional plane and to create the illusion three dimensionality. Another way for me to minimize the use of a frame I paint objects inside a niche, doing this helps me create depth, and allows me to extend objects out of a contain space bringing in the viewer's attention.
I like to light my set-ups in the classical left to right lighting, keeping my shadows soft. I do not have natural light in my studio so I have to work using artificial lights. I have discovered that using a combination soft cool and warm florescent light bulbs together I can somehow mimic the effect of the north light typically found in an artist studio. By keeping the shadow's edge soft I can achieve the look of natural light in my work.
I always photograph set-ups, as it flattens the layers and gives me an immediate impression of the design's visual impact. It helps me to see the relationship of the objects to each other, and how light travels through. I only use the photos as reference as I prefer to paint directly from the set-up, doing this helps me correctly see colour and shadow temperature while I am working.
I prefer to paint on panel that I prepare myself using H.D.O Plywood used by sign makers. I coat the panel with several coats of acrylic gesso, that I sand down to paper like finish starting with 400 grade sand paper and finishing with 600 grade. I usually like to tint the gesso with a small amount of acrylic raw umber because it provides me a medium warm grey vase colour tone suitable for the kind of painting I do.
The skeleton of a painting is a good drawing, for that reason I always do a detail drawing directly from the set up but in some case, depending on the complexity of the setup I use the grid method to transfer the drawing to the painting surface. Doing a detail drawing helps me resolve any issues I might encounter and solve any composition issues. Once the drawing is done I begin to paint.
I do not use graphite to transfer the drawing into to the painting surface. I have found that after a while graphite can bleed through light colours, instead I use a "Stabilo" drawing pencil in brown or sepia.
After the drawing is transferred I start the under-painting with raw umber pigment that I grind myself using "Maroger" black oil. The under-painting not only functions as a base but also helps build in contrast and tonal values. This is a technique used by the Old Masters as a way to plan future colour placement and to establish values and tonality. After the under-painting has dry (about a day) working from the set-up l star adding colour. I like to paint from left to right beginning with the background. At this point I am concentrating in capturing the right form not adding detail paying attention to keep the edges soft.
Part of the painting process is to use information from the set-up, but to take the painting where I want it to go I draw on my experience of surface textures, light and shadow effects and movement of tone.
When painting I put a lot of myself into it and that is the reason why I have to become totally familiar with the objects in the set-up, that lets me interpret the objects' history and capture their moment in time.
For me to successfully represent an object I have to know that object from all angles that way I can use all my knowledge of it, and not just what I can see from a specific viewpoint. Otherwise it will be like basing my opinion of a person on a two-minute conversation, without knowing their history.
The final stage in my creative process is taking a break from the painting for a few days to refresh the eye, this helps me get a new impression of the work and allows me to step back and see if I need to readjust any colour and tones relationships. I try to avoid glazes at this stage, as a glaze will not correct form but it will only make the painting look muddy. I try to capture correct tones at an early stage. Painting for me is a necessity, a need. I am the happiest when creating art.